Welcome to SCUBA MAU, we are always working to provide our clients with the best dive experience.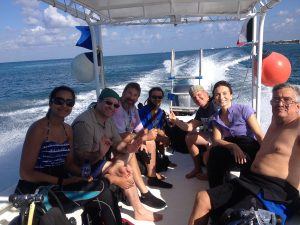 SCUBA MAU
Our logo is a picture of Mau's dad which one of his dad's friends once painted many years ago…
It was also many years ago that his dad took Mau on his first dive. This was where Mau discovered not only a whole new world but also his love and passion for this world.
PHILOSOPHY
This is a love and passion which all of us share with Mau. A passion which makes us believe in the same principles, follow the same philosophy and serve our clients and students with the same dedication making us one of the best Cozumel Dive shops on the island.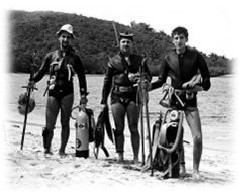 WHY CHOOSE US
Personalized Service
Extremely Safety Conscious
Small Groups -More Fun per Person
Professional, Multilingual staff
Friendly Relaxed Atmosphere
Competitive Pricing
"… Mau and Junior were awesome. The dives were excellent with most of them over 60 mins. Mau leading the dives and showing us Eagle Rays, Sharks, Turtles, Seahorses and Eels. Plus Octopus and other great sights on our night dive. It was all outstanding."

–Greg M Washington, Jan 2012
"I have been going to Cozumel over 12 years now and scuba mau is hands down my favorite shop after trying many. They are fun and the staff is skilled at what they do. I am a scuba instructor and on my last trip I watched one of their dive master's help a nervous diver ease into their first ocean dive so everybody enjoyed their dive. So if it is your first dive or your log book is full you will like scuba mau !"

–Gonesouthjohn Texas, Dec 2010