Cozumel News
Hola Amigos!  Here at Scuba Mau we have some Cozumel news for you as we are pleased to present our redesigned website and the launch of our new blog! Expect updates from us us here at Scuba Mau about what we are up to, Cozumel Travel Tips, Things to do in Cozumel and Cozumel Dive information, Dive tips and more!  So subscribe to our blog amigos and for those that aren't as familiar with Diving in Cozumel or with us here at Scuba Mau below is some more information about Diving Cozumel and Scuba Mau!  Thanks amigos see you on your next Cozumel Dive Trip!
Cozumel is rated as one of the best scuba diving destinations. Cozumel scuba diving can open out a marine paradise for you with its immensely diverse sea life, coral formations and colorful sponges. One of the earliest Cozumel dive shops here has been the Scuba Mau which began when Mau went for the first time with his dad for diving in Cozumel. Today the school has grown into one of the finest Cozumel Scuba Diving facilities and has PADI certified instructors. Those who wish to learn scuba diving and want to make a career in scuba diving can now do that easily as Scuba Mau offers various Cozumel Dive Certification courses.
Whether you are on vacation in Cozumel or here as a student you will find Scuba Mau a one stop dive shop for all your scuba diving needs. If you have not completed your water dives you can do so here with the dedicated, multilingual staff at Scuba Mau. As an experienced diver you will love to go with them to the more advanced sites and see some of the underwater wonders that can leave you spellbound. Cozumel scuba diving has more than 30 dive sites and each has something unique to offer the scuba diver.
Scuba Mau offers a number of packages for snorkeling, scuba diving and professional courses. Though the dive shop is highly dedicated and offers the highest standards it also provides the fun element with full attention to the highest safety. Each of the Cozumel diving packages offered by Scuba Mau is designed to ensure each beginner or advanced scuba diver gets what they want and expects from the diving experience. Each of the groups is small so that personal attention can be given to every diver.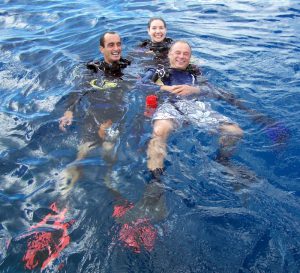 Diving in Cozumel offers you a diving experience that is like no other because of the high water visibility and some of the best wall dives anywhere in the world. Marine life that you are likely to encounter includes lots of colorful fish, turtles, groupers, green moray eels, nurse sharks, eagle rays and even black-tip reef sharks. Besides scuba diving if you are interested in underwater photography then there is great scope of that when diving in Cozumel.
As one of the popular and professional Cozumel Dive shops Scuba Mau offers some new experiences. If you book a Whale Shark tour you could find yourself swimming alongside the largest fish in the world and that too without scuba gear! You could also book to have some adventures in Mahahual. It's the ideal location to dive and stay on a beach front in an ecological house. The Cozumel Dive Certifications are offered for a number of courses including Scuba, diving, open water certification and advanced open water, rescue diver, as well as Dive Master Course besides some other refresher and first aid courses. Scuba Mau offers some of the best Cozumel scuba diving experiences and this is why they have won the 'Certificate of Excellence' in 2014.
Scuba Mau Launches new site and new Blog – Cozumel News